An Indoor Winter with Alayna Sonnesyn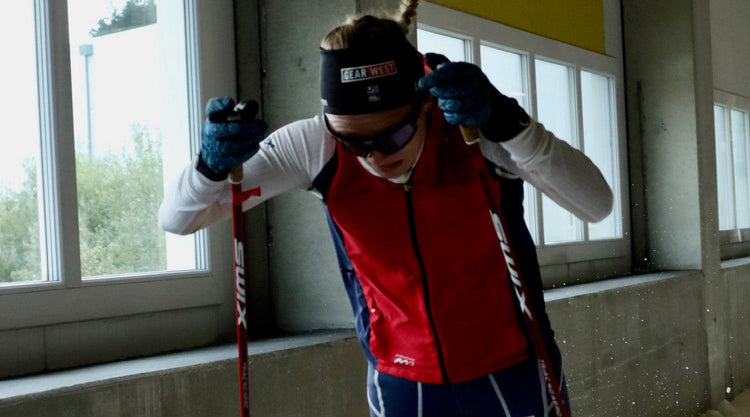 I just wrapped up a 5.5 week travel stint that brought me all around Europe, home to Minneapolis, and finally back to Vermont just in time for fall to arrive. Originally in search of snow, I started my journey back in early August when I traveled to Switzerland not for a ski race but for a running race! One of my process goals this year has been to test myself in longer, more competitive running races. I had so much fun at the North American Golden Trail Series race in Quebec City back in July that I wanted to test the waters of an international competition. I scoped one out in the Swiss Alps - the Sierre-Zinal 30k. This trail race recruits sub-ultra runners from around the world for an epic course that includes a 2,200 meter elevation gain and a 1,100 meter vertical drop in the heart of the Valais Alps. Although this was an amazing opportunity that featured stunning scenery, I, unfortunately, did not have the race I was hoping for and got my butt kicked by speedy professional runners. Always up for a challenge, it was fun to try something new, but I quickly realized I was ready to focus on my ski training and set running on the back burner.
Previewing the Sierre-Zinal course.
Luckily, I had timed things perfectly to meet up with my team only two days later in Oberhof, Germany for a two-week training camp. We traveled to Oberhof not only for its amazing rollerski tracks or the stunningly green running trails but for access to a ski tunnel. Everyday, in the 70 degree weather, we would bundle up before entering an enclosed freezer packed with snow. The tunnel is a funny concept as it isn't actually a tunnel underground, but more like a giant ice rink that happens to be shaped in a long skinny loop that reaches about 1.5k in length. The indoor loop is set at about 25 degrees fahrenheit and is covered with man-made snow that gets groomed once per week with both skate and classic lanes. 
Sometimes we're seasonally confused. 
In the past, we have traveled to the tunnel for a quick, eight-day training camp, trying to optimize our time in the tunnel and really put an emphasis on snow skiing. This was still the main reason for our camp, however, we decided to make it a two-week camp and bring rollerskis this time too. This allowed us to mix up training methods and not feel too much pressure to spend every single minute in the tunnel, as it can lose its novelty quickly. That being said, we spent every morning in the tunnel working on technique, drills, getting "the feel of snow" back under our feet, and intervals. Throughout the two weeks, we did 2 sets of threshold/L3 intervals, 2 sets of speeds, and 2 sets up L4 intervals, hitting both techniques once in each type of workout. In the afternoons, we had a mix of snow skiing, rollerskiing, running, and strength. Overall, this variety helped a lot with the mental aspect of skiing in the tunnel everyday. It allowed us to really focus in the mornings and then keep it light in the afternoons and just enjoy the change of scenery. 
During my time in the tunnel, I was working on quite a bit of technique changes. While skate skiing I was working on keeping my feet slightly further apart from each other, keeping my hands high and my hips forward. Meanwhile, in classic skiing I was working on better weight transfer and an explosive kick in my striding, as well as getting my hips forward (not just high) in my double pole. I've been working on lot of these technique points this summer on rollerskis, but to get to apply them to snow skiing without the pressure of upcoming races is very valuable! 
Working on that double pole! Also, the windows in the tunnel make such a difference in this tunnel (not all tunnel have the wall of windows).
All in all, it was a very productive camp from a training and technique perspective, as well as a team aspect. We had a few of the younger members of our team join us for the first time abroad. It was fun to learn more about them as we spent most of our time together. After camp, I went on to join my teammates, Lina and Lauren, for a week of training in the French Alps for what we called a "training vacation." It was a treat to ourselves to explore a new place, while also training most days with some of the French national team. 
Not a bad spot for some intervals.
Finally, I wrapped up my time in Europe and traveled home to Minnesota where I got to see lots of friends and family, connect with the Midwest ski community at a Gear West/World Cup preview event at Theodore Wirth Park, and train on some of the roads and trails that I grew up on. This was a special time for me as I was starting to feel a bit drained from the long hours at ski camp and the time away from loved ones. I felt so much joy from the folks who came out to Theodore Wirth Park that it lit the fire inside me to keep putting in the work so I can (hopefully) be back this winter with the World Cup team. Now, it's time to get back to it!
Thanks to everyone who came out for a fun evening!
Gear West Videos
How to Stop on rollerskis