Ski Analysis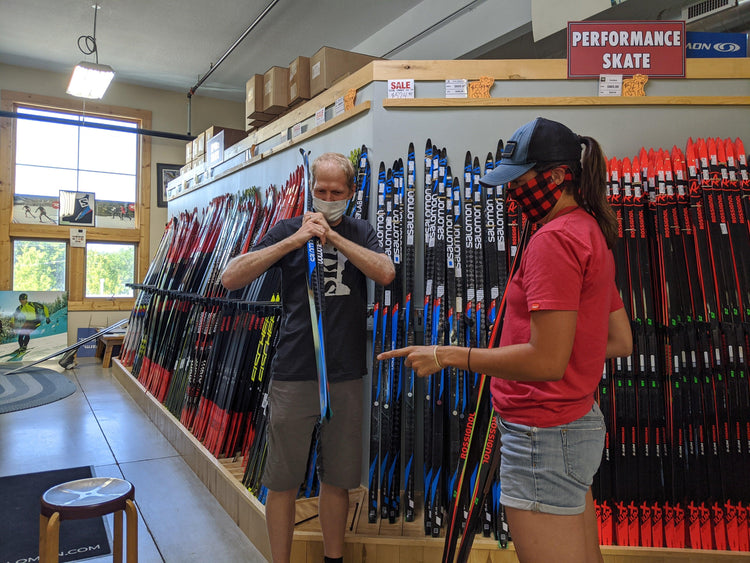 Ski season 20/21 is now done and dusted here in the Midwest. With so much going on in the world it was a privilege to be a part of something positive this year in the ski industry – all the new people getting into cross country skiing. At times it was a challenge to keep up with the pace of it all, but as industry veterans (including Jan Guenther and Brian Knutson) said often, "we may never live through another season like this". The good news is we have already seen customers come back through the door for 'faster' stuff. Next season I am sure we will see more. Even if a small fraction of the new faces make skiing a new hobby it will be a success for our sport. We may even fit some new skiers for race skis within the next few years.
We are hopeful that racing will 'return to business as usual', but if not, the past winter has proven that the racing bug does not disappear in a pandemic. It was amazing to watch our popular Midwest ski events adapt to the circumstances and provide safe alternatives.
Below I revisit many ways Gear West can help our racing customers stay on track for next season.
Spring is the time to bring skis into the shop for a ski analysis. Just as training is best started in the spring, the process dialing in equipment for next season should start in spring. We suggest: rechecking the flex on your skate and classic skis; reviewing your bases for new grinds; following up with a storage wax. This process is not limited to racers with a big fleet of skis, skiers with one or two pairs of skis can also benefit. If new skis are in the cards, we would be happy to suggest skis and grinds that will be a complement. We love checking over skis and spring is when we have time to spend with you. For those looking for new skis we can collect the info needed to begin the ski picking process.
Selecting the perfect ski starts with the ability to pick through many potential skis and we often look at several brands to find the perfect pair. At Gear West we, fortunately, address the process two-fold. First, we have excellent relationships with our ski brands to pick skis at factory warehouses or work with the race room departments to have skis selected. Working with our trusted contacts allows us to learn from them and them from us, an information exchange that we pass onto our customers. Second, we carry the largest ski inventory in the country. We have the ability to check the picks we make and receive against our own inventory. This is a unique ability not available at other shops.
'Hand selection' has become a tired and worn-out term, but does accurately describe the utility of our processes. The first step in looking at skis is to evaluate the rough flex of a ski and match the flex to the skier's body weight. Factory flex numbers come in different forms and each ski has a factory sticker with enough information to narrow our choices. We also have a flex tester that recreates the conditions the factories use in their flex analysis. We double check numbers, and further look at how the ski reacts under load to see different flex characteristics and determine in which conditions it will work best. We also often use our hands to squeeze the skis to feel how they flex and have done this enough to trust the feedback. Lastly, we still strongly believe in having the skier (or someone the same weight as the skier) stand on the ski, on a fit board. The customer (or us) can feel the skis underfoot and we can take the final look at the camber profile. These steps alone do not determine your perfect ski, but together these steps provide us the information we need to make our best choices.
Once the right ski is selected, we determine the appropriate structure and wax service. Structure and wax can be an article in itself (!) and this step is a serious part of our ski fitting process. Base structures are patterns in the ski base that help the ski glide over the snow by managing moisture. Structure is made with a stone grinding machine. Fine structures are best for cold, dry snow and aggressive structures are more appropriate for wet, warm snow. We have an Italian Tazzari RP-23 stone grinder which is the best in the business. Variations in structure patterns cut with our machine are endless. We are always testing new patterns in different snow conditions with an eye towards updating our menu. Factory skis arrive with structure patterns that are often messily mass produced, too aggressive, and do not thoroughly flatten the ski base. Therefore we recommend stone grinding new skis. We can flatten, polish and press in a new structure with minimal impact to your new ski base. We take time to attend to details, making sure your new ski's bases are pristine and the structure pattern fits with the snow in the local area. A clean base with an appropriate structure can be more important than the wax.
We have great ski fitters at Gear West, some with 20-30 years of experience. I describe our process as collaboration. We work together and everyone brings important information/skills to the table to help our customers. Our experience cuts through the dogma and we know that your feedback -the customer- is our most important tool. Listening to you, and integrating your needs with our experience, sets us apart. We double down on our commitment to keep working with you before and after the skis left the door. We stay committed to the best outcome when fitting skis.
To recap: Spring is the best time to review your skis and check out what is or will be new. A new ski is not always the priority; often, making your current skis act like new is the best way to go. Our interest is to spend time with you and to help you to better understand your skis and skiing needs. We usually learn just as much in the process.
- David Chamberlain
Gear West Videos
How to Stop on rollerskis