Alayna Oberhof Camp Blog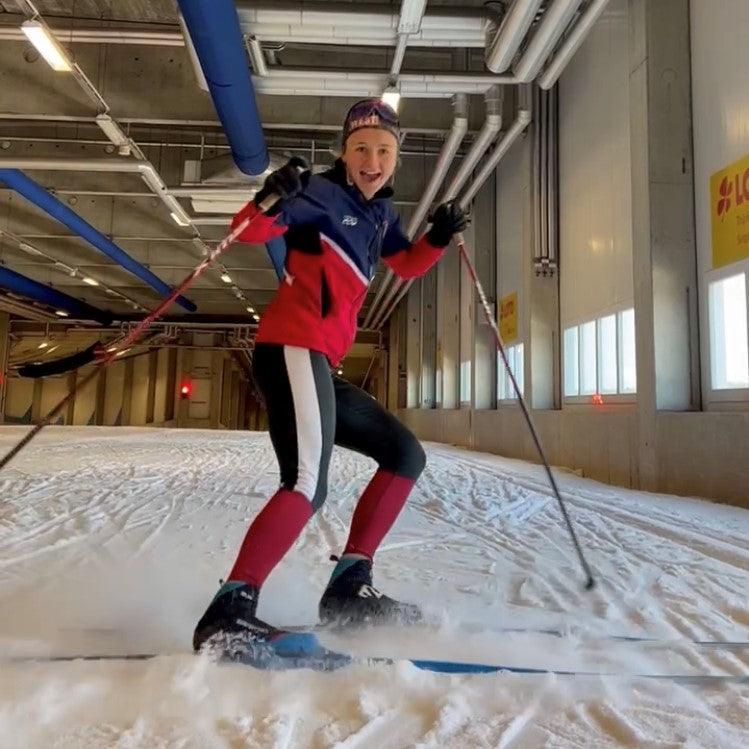 A few weeks ago I had the privilege to fly across the Atlantic to a small town called Oberhof, Germany. With a population of just over 1,500 people you wouldn't think the sleepy town would have much to offer. However, hidden amongst the thick Thuringian Forest, lays a network of running/hiking trails, a rollerski track, a ski jump, and a tunnel hosting a 1.6 kilometer loop of man-made snow.
Excited to be on snow in August!
This tunnel is an incredible resource for skiers to take advantage of on-snow time at any point in the year. There's no hassle of flying all the way to the southern hemisphere or turning to undependable conditions on a glacier. Instead, it's a controlled atmosphere set at 26 degrees F, with man-made snow, daily grooming, and consistent wax conditions. 
Last fall, I traveled with my SMS T2 team to train in this tunnel and we had such a productive and enjoyable camp that we planned to return again this summer! My SMS teammates that are on the national team attended separate camps in Australia and Norway, while the remainder of us not on the national team planned a 9-day training camp in Germany. I knew in advance that one of my closest friend's wedding conflicted with the timeline of the camp, so I traveled overseas six days early to do some solo training in anticipation of leaving camp early to attend the wedding.
Oberhof is a beautiful little town.
While crushing seven minute laps by myself, I had the time to learn a lot about my new Salomon skis, practice klistering my skis, and listen to PLENTY of podcasts and new albums. I recently made the switch from Rossignol to Salomon skis and although the change excites me, it's also been intimidating. I knew I had a lot to learn about the new skis, as they are built structurally quite differently. The skate skis felt slightly softer to me, which helped me climb the hills quickly, but also had plenty of speed as I was gliding across the snow. On top of that, the grinds were new to me so I had to learn what grind worked in the transformed snow and what might be best to keep for fresh or cold snow. In general, the Salomon classic skis have a lower pocket making them feel slightly easier to kick, but also favor an early kick which took some getting used to. I put an emphasis on classic skiing which meant I had lots of practice putting on Rode Multigrade klister, a reliable kick wax strategy in the tunnel. Meanwhile, training 24 hours a week in a tunnel might be compared to running 90 miles a week on a track. It definitely requires some persistence and also some distraction. For the easy volume sessions, I downloaded sports podcasts, a few from NPR, and some that were just silly, mindless and entertaining. My favorite of these was The Cat Still Must be Fed; it's about a man from Ukraine who walked 6+ miles each way, everyday, to feed his cat throughout the initial few months of the country's invasion. When it came time for intervals, I turned to playlists by MGK, Lizzo, and some oldies from the early 00's.
Taking the solo week one session, hour, minute at a time.
Intensity days brought a whole new level of excitement as I knew breaking up the training into intervals and working hard would help the time go by. In the nine days on snow I did classic threshold (4x15 minutes), skate L4 (5x4 minutes), a classic pyramid (30-60-90-120-150-180 and back down), and classic and skate speeds. These workouts were challenging in a very unique way because the one hill in the tunnel was big enough to make me V1 when skating or stride when classic skiing, but also forced me to keep pushing over the top and down the other side without taking much of a break. This made the workouts beneficial from a neuromuscular standpoint with high speed and little-to-no recovery within each interval. 
To say I was excited to see my teammates on day six would be a colossal understatement. They arrived just as I was going stir crazy, both in the tunnel and during the time between training hours. Lina Sutro and Lauren Jortberg arrived with Coach Perry Thomas and together, the last few days of camp flew by. We worked on technique, drills and more ski testing, while chatting with the visiting Swiss National team and making friends with the staff at the tunnel. 
Even with company, things started to get weird in the tunnel.
Learning the new Salomon skis with Coach Perry.
By day nine, I was sad to leave Lina and Lauren, but also ready to take a break from the laps in the tunnel. It was a great camp, with lots of quality skiing. Although summer is only just wrapping up, I know fall is about to fly by and ski season will soon be upon us!
Gear West Videos
How to Stop on rollerskis